Proof of Loyalty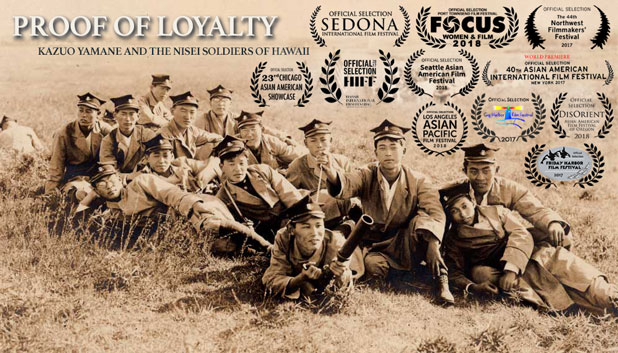 Proof of Loyalty World Premiere Garners Audience Choice Award
We're pleased to announce that Proof of Loyalty had its world premiere at the Asia Society in NYC on August 3rd as part of the Asian American International Film Festival where it won the Audience Choice Award, Documentary. You can read more on PROOF OF LOYALTY's own website that includes news, screenings, reviews, and history. You can see it by clicking here.
"Brilliantly mixing archival footage and intelligent interviews, Lucy Ostrander and Don Sellers tell the story of Kazuo Yamane and his fellow Japanese Americans who proved their patriotism through their military exploits amid the most trying circumstances during World War II."
– Greg Robinson, author,
By Order of the President:
FDR and the Internment of Japanese Americans
"…you will exit the theater with a greater understanding of Hawai'i's history and an appreciation for the depth of service the young Nisei stepped up to perform when the odds were against them."
– Karleen C. Chinen,
The Hawai'i Herald
PROOF OF LOYALTY: Kazuo Yamane and the Nisei Soldiers of Hawaii tells the story of a Japanese American who played a crucial strategic role in World War II. He and his fellow Nisei from Hawaii combatted prejudice and discrimination to loyally serve their country. Their extraordinary service, mostly untold, ultimately changed the course of U.S. history.
Kazuo Yamane's father, Uichi, came to Hawaii in the late 19th century with nothing and built a successful family business. His eldest son, Kazuo, first educated in the discriminatory school system in Hawaii, eventually graduated from Waseda University, the Harvard of Japan, and returned to Hawaii just before the Pearl Harbor attack. Drafted just before the war he became part of what would be the War Department's most successful social experiment, taking Nisei troops from Hawaii and forming the 100th Infantry Battalion, a unit made up of a group entirely related to a country we were at war with. Their success was spectacular, but Kazuo was plucked from their ranks for his exceptional knowledge of Japanese, which would lead him to the Pentagon, to a secret facility in northern Maryland, and finally to serving under Eisenhower in Europe. Most importantly, he would identify a secret document which would help to shorten the war in the Pacific.
The absolute loyalty of the Nisei to America in World War II, despite discrimination and incarceration provides an insight for us today. These American citizens used whatever skills they had to protect their beloved country, even while many Americans suspected them of being the enemy. The War Department trusted them and through them gained both a military advantage by strength and sacrifice on the battlefield to important intelligence behind the lines. Diversity powers America, but also keeps us safe — one only has to look at the Nisei to provide ample proof.
The story of Japanese-Americans in Hawaii is a unique one, and as with any unique story, it is difficult to tell in a way that is both comprehensive and personal. But PROOF OF LOYALTY manages to do just that, using the inspiring story of World War II hero Kazuo Yamane as a window into the Japanese-American experience in Hawaii.

During World War II, the United States interned over 100,000 Japanese-Americans in camps. But of the over 150,000 Japanese-Americans in Hawaii, less than 2,000 were interned. In fact, a select group of a few hundred Japanese-American men in Hawaii were recruited to translate Japanese for the American Army. These troops, known as the 100th Infantry Battalion, were seen as an experiment that would prove whether any Japanese-Americans could truly be trusted to be loyal to the United States.

These men proved not only to be loyal, but also instrumental to winning the war.

Men like Kazuo Yamane are a reminder of what truly makes America great. Japanese-Americans had no obligation to love the United States during World War II. The discrimination they faced is a stain on American history, revealing the darkest, ugliest impulses of American society. Yet the brave Japanese-American soldiers we see in PROOF OF LOYALTY risked everything for their country and ended up saving countless lives through their translation work. They prove that America's strength comes not from military might, but from diversity. This film may be about men from decades past, but it couldn't be more relevant.
– Asian American International Film Festival