AWARDS
We are proud to announce that Honor Thy Mother was awarded the 2022 Port Townsend Women & Film Festival Audience Choice Award for Short Documentary, the Indigenous Futures Award at the 2021 Social Justice Film Festival, and the Special Jury Award for Indigenous Short at the Bend Film Festival. It won the Overall Short Film Audience Choice Award at the 2021 Friday Harbor Film Festival and Best Feature Documentary and Audience Choice Award for Feature Documentary at the West Sound Film Festival.
REVIEWS
Spring, 2023 – NAIS Journal (Native American and Indigenous Studies) published a detailed review that included this: 
"The film is poignant and timely. The past decade of documentary film has led to a specificity that recognizes the complexities of reclaiming indigene­ity. Honor Thy Mother reminds us that we also can celebrate the intercon­nectedness of gender and race. Despite the "cultural incongruence" of being mixed heritage or struggling to be an Indigenous woman surviving a resi­dential school, the film demonstrates the long-standing resilience found out of the necessity of colonial dispossession."  
– CLEMENTINE BORDEAUX (Sicangu Oglala Lakota)
is a doctoral student in culture and performance
University of California, Los Angeles.
Yes! Magazine published a review of Honor Thy Mother and was republished in Seattle's Crosscut. Here's a link. 
Bainbridge Island Arts & Humanities wrote a story about Honor Thy Mother. Here's a link.
We received this "Recommended" review from Educational Media Reviews Online. Here's a link. 
We also received a brilliant review of Honor Thy Mother written by Ashley Caranto Morford for B.C. Studies, an academic journal published by the University of British Columbia. Here is a short excerpt:
"Honor Thy Mother is a necessary and urgent film that must become part of our advocacy and educational work; this documentary can help us further deepen our understandings of where we have failed as kin and of the power, strength, beauty, and futurity inherent to Indigenous and Filipino cultures, so that we can respectfully and responsibly support, deepen, and ensure the liberated future that the Indigenous mothers of the Indipino community helped bring into being."
The full review can be found here: https://bcstudies.com/new_media_review/celebrating-the-indigenous-filipino-community-on-bainbridge-island-and-the-indigenous-women-who-brought-it-into-being-a-review-of-honor-thy-mother/
Honor Thy Mother is the untold story of 36 Aboriginal women from Canada and Native women from tribes in Washington and Alaska who migrated to Bainbridge Island, the traditional territory of the Suquamish people, in the early 1940s. They came, some still in their teens, to pick berries for Japanese American farmers.  Many, just released from the Indian Residential Schools, fell in love in the berry fields and married Filipino immigrants. Despite having left their homeland and possible disenfranchisement from their tribes, they settled on the Island to raise their mixed heritage (Indipino) children. The voices of the Indipino children, now elders, are integral in the storytelling of their mother's experiences marrying Asian men and settling in a distant land. They share their confusion of growing up with no sense of belonging in either culture and raised in poverty as the children of berry farmers, some with no running water, electricity or indoor plumbing.  In a post-World War II racist environment, they grew up in homes burdened with their father and mother's memory of the 227 Bainbridge Island Japanese Americans forcibly removed from their homes after President Franklin Roosevelt signed Executive Order 9066 on February 19th, 1942.  Brought to light, in the oral history interviews of the Indipino elders, is the effect that historical trauma has on children, more specifically children whose mothers survived Indian Residential Schools.
"Honor Thy Mother brings together a remarkable tale of the violences of cultural erasure and the endurance of collective memory from the voices of those who grew up in mixed households of Native and Filipino descent. Otherwise known as Indipinos, their words lay bare their communities' histories of traumatic assimilation as they lovingly pay tribute to their own mothers who tried to keep alive, in their own ways, their connections to their aboriginal cultures. These are all poignant testaments to the powers of remembering and recognizing."
-Rick Bonus
Professor and Chair
Department of American Ethnic Studies
University of Washington
"From the trauma of Indigenous boarding schools to the incarceration of Japanese Americans to the struggles of Filipino American migrant laborers, the story of the Bainbridge Island Indipino community brings together defining historical moments in transnational ethnic studies. In Honor Thy Mother, members of that community tell their own stories in a moving, artfully orchestrated collective narrative of survival, mutual support, and cultural renewal. "
-Vincent Schleitwiler
Lecturer
Department of Ethnic Studies
University of Washington
 •  •  •
We have had the honor to make many films about the Japanese American experience during World War II but Kazuo Yamane's story opened up a chapter unknown to us and most Americans. Hawaii, harboring important military facilities and 2500 miles closer to Japan than the West Coast, had a population consisting of nearly 40% Japanese ancestry when Pearl Harbor was bombed in late 1941. But unlike the mass incarcerations on the mainland only a small percentage of Japanese Americans were confined in Hawaii. The Nisei, the second generation American citizens, volunteered in massive numbers from Hawaii to serve in the US Army, both in combat and as intelligence personnel. And of all their exceptional heroics and important service, none had a more unusual and interesting war than Kazuo Yamane.

Kazuo Yamane, first educated in the discriminatory Hawaiian school system, and eventually graduating from Waseda University, the Harvard of Japan, was drafted into the US Army just before the attack on Pearl Harbor. Plucked from the infantry ranks for his exceptional knowledge of Japanese, he would serve at the Pentagon, then a secret facility in northern Maryland, and finally under Eisenhower in Europe. Most importantly, he would identify a secret document that would significantly help America's war in the Pacific.
The absolute loyalty of the Nisei soldiers in World War II, despite discrimination and incarceration provides an insight for us today. These American citizens protected their beloved country, even while many Americans suspected them of being the enemy. Diversity powers America, but also keeps us safe—one only has to look at these Nisei, like Kazuo Yamane, for ample proof."
-Filmmakers Lucy Ostrander and Don Sellers
 •  •  •
Sidney Rittenberg's Story Featured on KNKX's Sound Effect
Using clips from The Revolutionary and new interviews, Gabriel Spitzer explores the life of Sidney Rittenberg in a 13-minute radio documentary.
You can hear the show by clicking here.
 •  •  •
The Revolutionary Featured on NPR's Morning Edition / Throughline
"NPR's history podcast Throughline, profiles Sidney Rittenberg, an American who became a Chinese revolutionary and encountered both acceptance and suspicion from Chinese leaders."
You can hear the show by clicking here.
 •  •  •
Los Angeles Screenings. December 2, 2019
We had a special University of California at Los Angeles screening with the award-winning short film – American, starring George Takai. The Pacific Citizen has published a great background on the screening here.
June 9-14, 2019. We also had a special Los Angeles screening with the award-winning short film – American, starring George Takai. The film also screened at the Japanese American National Museum during this time.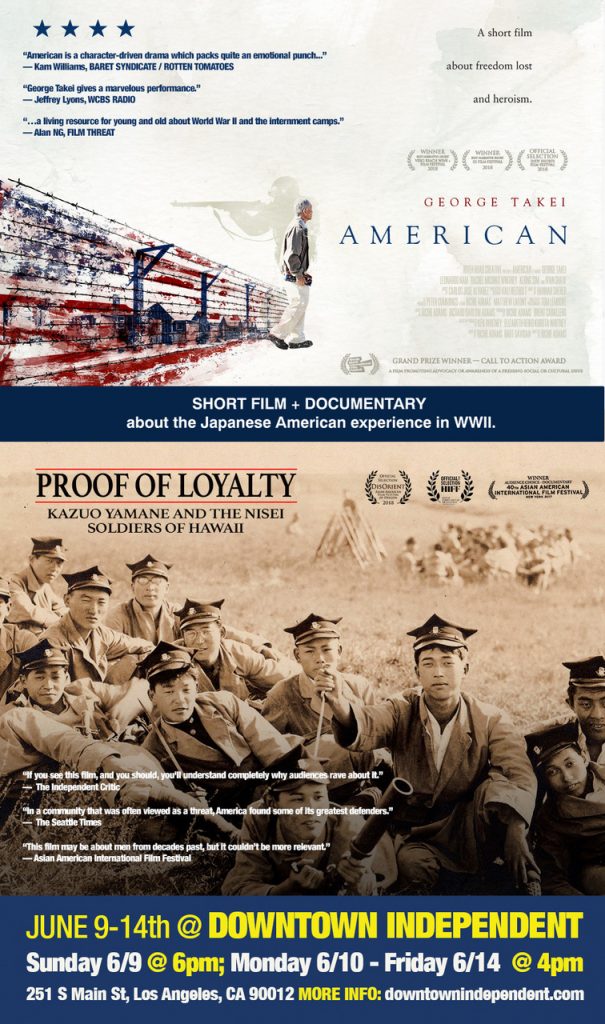 •  •  •
Proof of Loyalty Featured in Seattle Times
Tyrone Beason of the Seattle Times has written a discerning and perceptive piece about Kazuo Yamane and the film, published on Veterans Day. We include a few paragraphs below. The entire review can be seen here.
"Immigrant Japanese like Kazuo Yamane's parents, a generation known as Issei, weren't made eligible for U.S. citizenship until 1952 because of decades-old discriminatory policies aimed at excluding and marginalizing foreign-born Asians.
"Still, they raised their U.S.-born children to love this country.
"In a community that was often viewed as a threat, America found some of its greatest defenders."
Proof of Loyalty Featured on KING 5 Seattle
NBC Seattle affiliate KING 5 created two pieces on the film recently.
The first features Kazuo Yamane's daughter Joyce, talking about the significance of her father's service. It can be seen by clicking here.
The second features Joyce and the film's coproducer Lucy Ostrander. It can be seen by clicking here.
Proof of Loyalty Receives Legacy Award
We're pleased to announce that Proof of Loyalty received the prestigious Legacy Award at the DisOrient Film Festival, in Eugene Oregon.
Proof of Loyalty World Premiere Garners Audience Choice Award, Documentary
We're pleased to announce that Proof of Loyalty had its world premiere at the Asia Society Auditorium in NYC on Thursday, August 3rd at 9:45pm as part of the Asian American International Film Festival. It received the Audience Choice Award, Documentary. For more information go to: http://aaiff.org/2017/films/proof-of-loyalty-kazuo-yamane-and-the-nisei-soldiers-of-hawaii/