We have had the honor to make many films about the Japanese American experience during World War II but Kazuo Yamane's story opened up a chapter unknown to us and most Americans. Hawaii, harboring important military facilities and 2500 miles closer to Japan than the West Coast, had a population consisting of nearly 40% Japanese ancestry when Pearl Harbor was bombed in late 1941. But unlike the mass incarcerations on the mainland only a small percentage of Japanese Americans were confined in Hawaii. The Nisei, the second generation American citizens, volunteered in massive numbers from Hawaii to serve in the US Army, both in combat and as intelligence personnel. And of all their exceptional heroics and important service, none had a more unusual and interesting war than Kazuo Yamane.
Kazuo Yamane, first educated in the discriminatory Hawaiian school system, and eventually graduating from Waseda University, the Harvard of Japan, was drafted into the US Army just before the attack on Pearl Harbor. Plucked from the infantry ranks for his exceptional knowledge of Japanese, he would serve at the Pentagon, then a secret facility in northern Maryland, and finally under Eisenhower in Europe. Most importantly, he would identify a secret document that would significantly help America's war in the Pacific.
The absolute loyalty of the Nisei soldiers in World War II, despite discrimination and incarceration provides an insight for us today. These American citizens protected their beloved country, even while many Americans suspected them of being the enemy. Diversity powers America, but also keeps us safe—one only has to look at these Nisei, like Kazuo Yamane, for ample proof."
-Filmmakers Lucy Ostrander and Don Sellers
 •  •  •
Proof of Loyalty World Premiere Garners Audience Choice Award, Documentary
We're pleased to announce that Proof of Loyalty had its world premiere at the Asia Society Auditorium in NYC on Thursday, August 3rd at 9:45pm as part of the Asian American International Film Festival. It received the Audience Choice Award, Documentary. For more information go to: http://aaiff.org/2017/films/proof-of-loyalty-kazuo-yamane-and-the-nisei-soldiers-of-hawaii/
Upcoming Screenings:.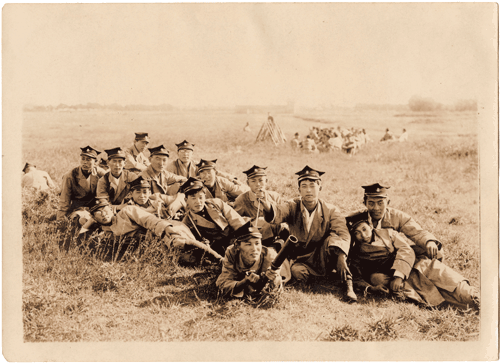 Proof of Loyalty
DisOrient Asian American Film Festival, Eugene, OR
April 21,  2018
5:00pm
Redwood Auditorium at the UO Student Union
Proof of Loyalty – Honor & Sacrifice
City College of San Francisco, CA
Proof of Loyalty and Honor & Sacrifice will be shown at the City College of San Francisco campuses on May 1st and 2nd.
May 1,  2018
10:30am-Noon Proof of Loyalty
City College Downtown Library, 88 Fourth St., Room 821
1:30-3:00 Honor & Sacrifice
City College Chinatown Library, 808 Kearny St.
May 2,  2018
10:00am-11:00 Proof of Loyalty
11:00am-Noon Honor & Sacrifice
Ocean Campus, Rosenberg Library, 50 Phelan St.
Proof of Loyalty
Los Angeles Asian Pacific Film Festival, CA
May 5,  2018
11:00am
Downtown Independent
251 S. Main Street
Los Angeles, CA 90012
 •  •  •
PROOF OF LOYALTY NEWS
"…Combining archival materials and interviews with historians, Proof of Loyalty presents a powerful story of the cultural, political, economic, and legal forces that propelled Japanese immigrants and their descendants to become a vital segment of the American population."
– Video Librarian, 3.5 Stars
"Highly Recommended" 
"A combination of great archival photos, good writing, expert commentary and skillfully used narration and music makes this film a wonderful resource for anyone interested in Japanese Americans in Hawaii, and especially the story of their contribution to the United States' efforts in World War II. I was particularly impressed by the deep background the documentary provided, telling the story of how Japanese immigrants originally came to Hawaii, eventually becoming the parents of Hawaiian Nisei soldiers who played critical roles in the War. It's a fascinating story told in a very engaging way"
– Rob Britt,
Coordinator of East Asian Library Services, 
University of Washington
HONOR & SACRIFICE NEWS
We want to thank Artist Trust for awarding Lucy Ostrander a 2014 Artist Trust GAP Grant in order to cover the costs of producing a closed-captioned version of HONOR & SACRIFICE as well as 200 DVDs. More info can be found here. Our latest work, HONOR & SACRIFICE is currently  being screened at film festivals.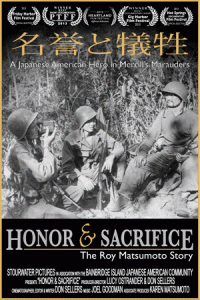 HONOR & SACRIFICE has its own website. Go there for the latest news and screenings. The Seattle Times had a front page article about Roy. You can see it below and read it here.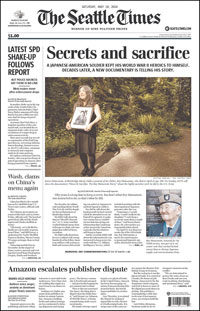 We've gotten great feedback from scholars. You can read what they've written here.
THE REVOLUTIONARY NEWS
In 2012 our feature-length documentary THE REVOLUTIONARY, a biographical film of Sidney Rittenberg, an American who became a member of the Chinese Communist Party and spent 34 years in the PRC premiered at the Seattle International Film Festival to two sold-out audiences. Subsequently, the film has inspired audiences all over the world. Besides festivals and a theatrical run in New York City, notable screenings include: the National Press Club in Washington DC., the European Parliament, the Pan-Asia Film Festival in London, and the Foreign Correspondents Clubs in Beijing, Shanghai, and Hong Kong.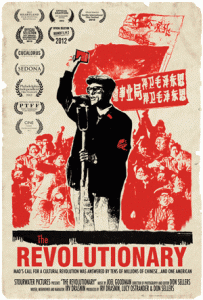 THE REVOLUTIONARY has its own website. Go there for the latest news and screenings.
"THE REVOLUTIONARY is the remarkable story of Sidney Rittenberg, as only he could tell it. It is equally the story of China during decades of political and social upheaval and of his deep personal involvement in the Chinese revolution. Through Rittenberg's eyes and in his words, China's past comes alive. He delves into this history with clarity and candor, and does not obscure his role in events that a lesser person would prefer to forget or to rationalize. This is a compelling and deeply moving film that deserves the widest possible audience."
-Jonathan D. Pollack, Senior Fellow, John L. Thornton China Center, Brookings Institution