Honor & Sacrifice has received two prestigious national history awards. As far as we can tell, Honor & Sacrifice is the only film to ever win both awards. ERIK BARNOUW AWARD. The Organization of American Historians is the major organization for historians who study and teach about the United States. They annually present a small number of awards in recognition of scholarly and professional achievements in the field of American history. Only one is for a film, so the award is extremely competitive. Past winners include distinguished filmmakers such as Ken Burns and Henry Hampton, as well as revered films such as The Most Dangerous Man in America and Death and the Civil War. For the creators of historical documentaries, the Erik Barnouw Award represents one of the most significant honors achievable. Awarded by a preeminent academic organization, it not only recognizes the scholarly rigor of the work, but also its historical importance. We are honored to be this year's recipient. HISTORY IN PROGRESS AWARD. The American Association for State and Local History (AASLH) is the largest professional organization of individuals and institutions working to preserve and promote history. The AASLH Leadership in History Awards, now in its 69th year, is the most prestigious recognition for achievement in the preservation and interpretation of state and local history.  In addition, Honor & Sacrifice was also selected as a 2014 HIP (History in Progress) Award winner by the Leadership in History awards committee. The HIP Award, given at the discretion of the Committee, is an additional award for an Award of Merit winner whose nomination is highly inspirational and exhibits exceptional scholarship.
 •  •  •
Proof of Loyalty World Premiere Garners Audience Choice Award, Documentary
We're pleased to announce that Proof of Loyalty had its world premiere at the Asia Society Auditorium in NYC on Thursday, August 3rd at 9:45pm as part of the Asian American International Film Festival. It received the Audience Choice Award, Documentary. For more information go to: http://aaiff.org/2017/films/proof-of-loyalty-kazuo-yamane-and-the-nisei-soldiers-of-hawaii/
Upcoming Screenings:.
Honor & Sacrifice. September 20, 2017 – 7:00 PM - 8:30 PM The MacArthur Memorial Visitors Center. 198 Bank Street, Norfolk, VA 23510
The documentary tells the complex story of the Matsumoto family – a family torn apart by World War II. The family included five sons; two who fought for the Americans and three who fought for the Japanese. The eldest, Hiroshi (Roy), became an American hero, fighting against the Japanese with Merrill's Marauders, an American guerrilla unit in Burma. For more information go to: http://www.macarthurmemorial.org/Calendar.aspx?EID=56
Proof of Loyalty.
Gig Harbor Film Festival, Gig Harbor, WA
October 27, 2017
3:30pm at the Galaxy Theater, Gig Harbor, WA.
Friday Harbor Film Festival, Friday Harbor, WA
November 4,  2017
10am at the Palace Theatre
November 5, 2017
4pm at the Gubelman Screen at San Juan Community Theatre.
Hawaii International Film Festival, Honolulu, HI
November 2-12, 2017
Dates and venues to be determined
Nisei Veterans Committee, Seattle, WA
December 2,  2017
2pm at the Nisei Veterans Committee Hall
1212 S. King Street, Seattle
 •  •  •
HONOR & SACRIFICE NEWS
We want to thank Artist Trust for awarding Lucy Ostrander a 2014 Artist Trust GAP Grant in order to cover the costs of producing a closed-captioned version of HONOR & SACRIFICE as well as 200 DVDs. More info can be found here. Our latest work, HONOR & SACRIFICE is currently  being screened at film festivals.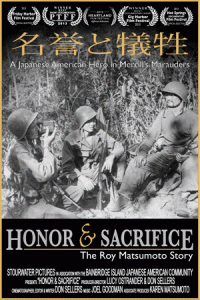 HONOR & SACRIFICE has its own website. Go there for the latest news and screenings. The Seattle Times had a front page article about Roy. You can see it below and read it here.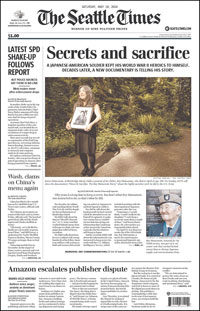 We've gotten great feedback from scholars. You can read what they've written here.
THE REVOLUTIONARY NEWS
In 2012 our feature-length documentary THE REVOLUTIONARY, a biographical film of Sidney Rittenberg, an American who became a member of the Chinese Communist Party and spent 34 years in the PRC premiered at the Seattle International Film Festival to two sold-out audiences. Subsequently, the film has inspired audiences all over the world. Besides festivals and a theatrical run in New York City, notable screenings include: the National Press Club in Washington DC., the European Parliament, the Pan-Asia Film Festival in London, and the Foreign Correspondents Clubs in Beijing, Shanghai, and Hong Kong.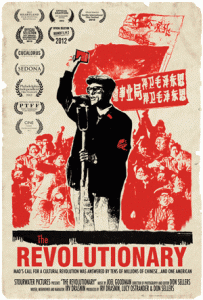 THE REVOLUTIONARY has its own website. Go there for the latest news and screenings.   "THE REVOLUTIONARY is the remarkable story of Sidney Rittenberg, as only he could tell it. It is equally the story of China during decades of political and social upheaval and of his deep personal involvement in the Chinese revolution. Through Rittenberg's eyes and in his words, China's past comes alive. He delves into this history with clarity and candor, and does not obscure his role in events that a lesser person would prefer to forget or to rationalize. This is a compelling and deeply moving film that deserves the widest possible audience."
-Jonathan D. Pollack, Senior Fellow, John L. Thornton China Center, Brookings Institution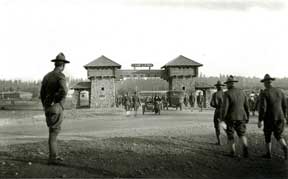 PASSING THE TORCH: THE BUILDING OF FORT LEWIS
 has recently been released on DVD. You can read more about the film
here
.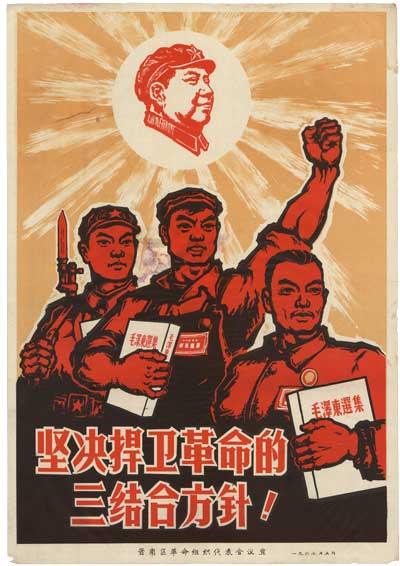 THE REVOLUTIONARY
 uses Chinese revolutionary posters as its visual motif.